Anti-adduction orthosis for children
• Commonly used for children with cerebral palsy, the orthosis prevents the scissor kick of the thigh and must be worn medially making sure that the child's hips are properly aligned.
• Aluminum joint with stainless steel adjustment guides.
• The thighs are of 4 mm copolymer PP.
• Can be attached with Velcro straps; detect the circumference 5 cm. above the center of the knee for the correct size of the thigh.
• Medial condylar silicone wedges are included to provide more comfort to the child.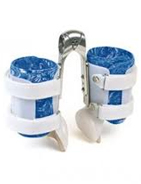 | | | |
| --- | --- | --- |
| Code | Description | Bar Slot (cm) |
| 18.004.001 | only stainless steel articulation | – |
| 18.004.001.S | Polymer leg straps | from 16.5 to 25 |
| 18.004.001.M | Polymer leg straps | of 25 and over |
Ring Lock hip joint
• Sold individually • Warranty: 12 months
Orthotic straight, manually locked
| | | |
| --- | --- | --- |
| Code | Material | Dimension |
| 18.004.002 | Stainless steel | 16 mm – left |
| 18.004.003 | Stainless steel | 16 mm – right |
| 18.004.004 | Stainless steel | 20 mm – left |
| 18.004.005 | Stainless steel | 20 mm – right |
Orthotic contoured, manually locked
| | | |
| --- | --- | --- |
| Code | Material | Dimension |
| 18.004.006 | Stainless steel | 16 mm – left |
| 18.004.007 | Stainless steel | 16 mm – right |
| 18.004.008 | Stainless steel | 20 mm – left |
| 18.004.009 | Stainless steel | 20 mm – right |
Ring Lock hip joint with lateral bars for children
• Sold individually • Warranty: 12 months

Orthotic straight, manually locked
| | | |
| --- | --- | --- |
| Code | Material | Dimension |
| 18.004.006.k | Stainless steel | 14 mm – left |
| 18.004.007.k | Stainless steel | 14 mm – right |
Free Motion hip joint
• Sold individually • A free motion hip joint with a 180° extension stop • Warranty: 12 months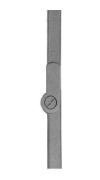 Orthotic straight
| | | |
| --- | --- | --- |
| Code | Material | Dimension |
| 18.004.010 | Aluminum | 3×13 mm – left |
| 18.004.011 | Aluminum | 3×13 mm – right |
| 18.004.012 | Aluminum | 5×13 mm – left |
| 18.004.013 | Aluminum | 5×13 mm – right |
| 18.004.014 | Aluminum | 6×16 mm – left |
| 18.004.015 | Aluminum | 6×16 mm – right |
| 18.004.016 | Aluminum | 6×19 mm – left |
| 18.004.017 | Aluminum | 6×19 mm – right |
| 18.004.018 | Stainless steel | 3×13 mm – left |
| 18.004.019 | Stainless steel | 3×13 mm – right |
| 18.004.020 | Stainless steel | 5×13 mm – left |
| 18.004.021 | Stainless steel | 5×13 mm – right |
| 18.004.022 | Stainless steel | 5×16 mm – left |
| 18.004.023 | Stainless steel | 5×16 mm – right |
| 18.004.024 | Stainless steel | 5×19 mm – left |
| 18.004.025 | Stainless steel | 5×19 mm – right |